As you might have heard, we have just recently found our way into the Silicon Valley of India, a.k.a. Bangalore! Following our first foray into India this month, we thought there was no better time to touch upon the hottest topics in the realm of FinTech in the country.
With the transaction value in the country's FinTech sector all set to touch 73 Billion USD in 2020, India has garnered a fair share of attention and attraction from the global market and we are excited to finally be part of it!
What to look out for
Digital Payments finds itself right at the forefront of the FinTech revolution. As India strives hard to move towards a cashless economy, this sector has ample room to grow.
Used across a wide range of services such as mutual funds, portfolio allocation, insurance and pension fund selection, Robo-Advisors are the next big thing investors are interested in.
With more than 57 million small business in the country, Peer to peer lending has huge growth potential when focused on micro finance, commercial and consumer loans.
"P2P lending has the potential to become disruptive in nature; hence, the P2P platform guidelines should not promise extraordinary returns to lenders. Since India being the most peculiar and fast paced economy, it needs to be seen differently from other global P2P markets. The country requires a mix of good regulatory practises to balance the growth of this model and adopt fair practises." - Naresh Makhijani, Partner and Head, Financial Services, KPMG in India
An increasing number of bank customers are using electronic banking on reinforced the need for bulletproof security and authentication measures. Key Biometric technologies are helping ensure data security as well as facilitating and easing the process of granting loans.
Blockchain is garnering a fair amount of interest in this space with a number of hackathons being held by leading industry bodies. While adoption is still quite premature, regulatory bodies have recognized and acknowledged the use of Blockchain and has set up about promoting it extensively.
What are your thoughts?
P.s. To learn more about what we're getting up to in Bangalore, join our community!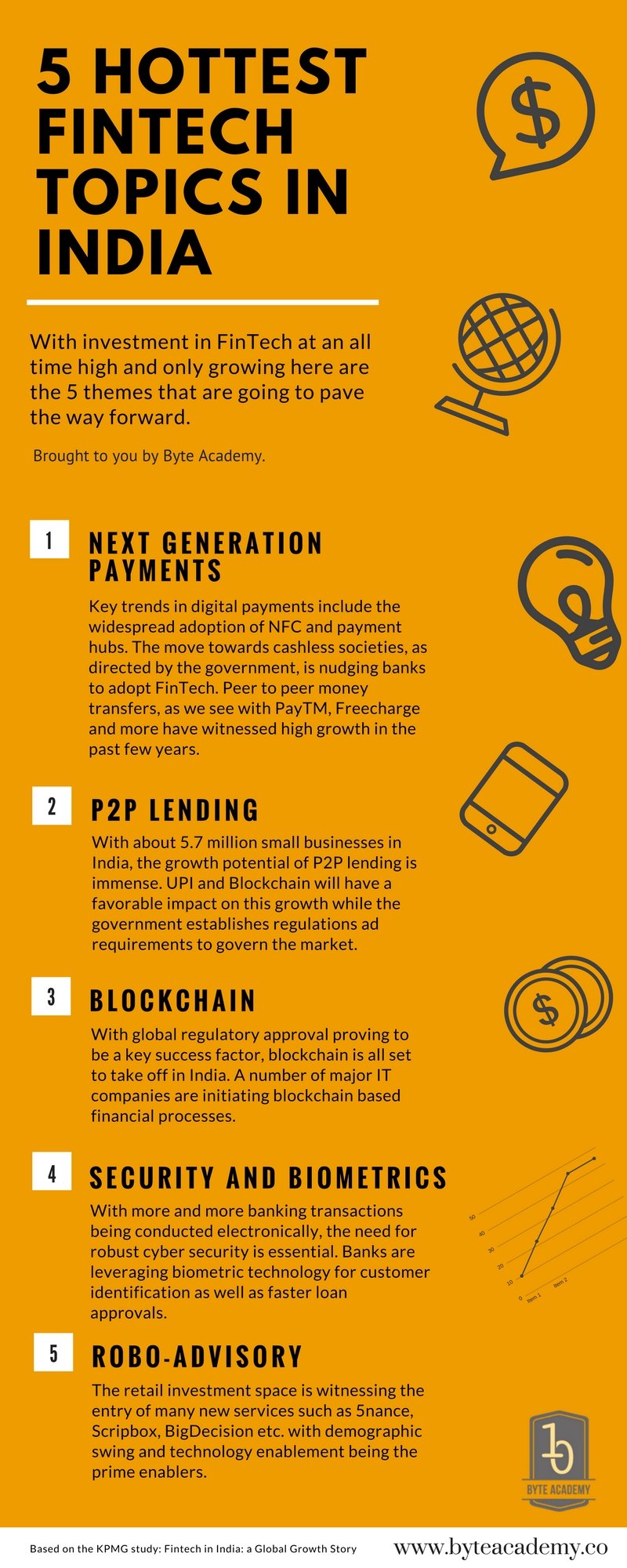 References
Fintech in India:A global growth story
Joint publication by KPMG in India and NASSCOM 10,000 Startups
Liked what you read? Checkout Byte Academy's Software Development and Intro to Python courses.