Learn more about Christie, our new Houston coding bootcamp Campus Director. With us, she discusses her four years in Houston's coding bootcamp industry, gives career tips and talks about her hobbies including travel and her dogs.
Where are you from? What is your background?
I was born in Houston and moved to Nigeria when I was two weeks old. I spent my first few years in Nigeria then Angola before moving to Boston, Tulsa and then back to Houston.
After earning degrees in communications, film and a minor in English, I became an Assistant Director of Admissions at a local college. Here, I discovered my passion for helping others achieve their dreams through education.
I started working in Houston's coding bootcamp industry in 2015 and love it. I have seen it transform from a scary proposition that neither prospective students nor prospective employers considered, to a viable path for people to change their lives and for employers to find fantastic new employees.
What has been the most rewarding in the Bootcamp industry?
It has been so cool to be in contact with former students who now in positions to hire junior level developers. They approach me to recruit new grads as they realize the value in bootcamp education and were in similar shoes not too long ago! As the tech ecosystem in Houston grows so will the need for developers. I am so excited to have Byte Academy graduates fill those positions and one day recruit from the same school in which they graduated!
What did you learn after four (!) years in the industry?
I have learned a few really cool things.
Coding Bootcamps really do change people's lives! It's a lot of hard work but it can pay off in so many different ways
Never give up: I watch people go through the program and sometimes they struggle. They keep going and in the end, it all comes together!
It's never too late: I have seen people from 18 to 65 learn to code - age isn't an issue!
Lifelong friendships: those I've made and I've seen students make are often life long -- that's a wonderful benefit too.
What are your top tips/advice for someone...
Considering starting a bootcamp?
My #1 tip is to go for it! If you want to learn how to code then do it! If you wait for the right time, that time won't come. You'll regret not following your dream.
Tips for graduates looking for a job?
MY #1 tip for graduates is that it's a numbers game. You need to treat looking for a job as your full time job. Network, send your resume to as many companies as you feel you are qualified to work for and practice interviews in the mirror. Your first job won't come to you, you have to proactively go get it!
What practices have you seen to make the most impact in the job search?
Consistent and determined effort. Your full time job is finding a job --the more seriously you take the job hunt, the more likely you are to get a job quickly. Remember, it's your first coding job, not your last and not the "perfect" or "dream" job. You have to start somewhere and some experience under your belt, other jobs will come.
What drew you to Byte Academy? What are you most excited to do here?
I really like the team which is very important to me! I also like the low student to instructor ratio. The core Python, JavaScript and careers curriculum is also fantastic!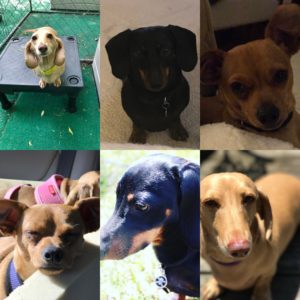 I am most excited to continue helping people change their careers and lives -- I love being a part of students' journeys.
What do you look most forward to/goals as a new member of Byte?
I look forward to working with such a wonderful team and growing Byte in Houston.
Please feel free to share any additional interesting fun facts or information.
I earned both a communications and film degree which I (kinda) used once being on a team which produced a documentary!
I am involved with numerous charities that help children, animals, veterans and others. In spare time, I love to write films, spend time with friends and family and hang out with my two dachshunds Ben, a rescue, Betty Lou and my rescue Chihuahua mix Beau.
I also love, love, love to travel! Having visited 7 continents in my life, I have two more to go...
Want to learn more about Christie, our new Houston coding bootcamp Director? Shoot her an email (christie.l@byteacademy.co) or stop by an upcoming event on campus.
Liked what you read? Checkout Byte Academy's Software Development and Intro to Python courses.