Empire Startups, a thriving startup FinTech community, held it's annual FinTech Conference on Tuesday, April 26 at concert venue Webster Hall. The sold-out audience of 560 attendees consisted of early stage startups and larger companies in roughly equal proportion.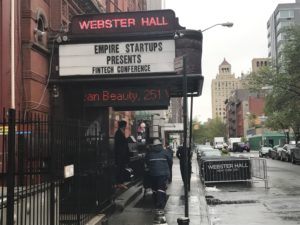 While the conference consistently attracts companies from California (Envestnet/Yodlee, Xignite), Boston (FinTech Sandbox, Quantopian) and other US locations, this year the event had significantly more international representation. Britain and Northern Ireland had a booth and FinTech Valley Vizag (India) came in as a sponsor from even further across the globe. Government representatives from Canada and Hong Kong were present, promoting various Fintech initiatives in their countries (the next Empire Startups conference will be held for the first time in Toronto and Hong Kong is throwing its second ever Fintech Week in October).
In addition to an international feel in the crowd, the presence of "girl power" was striking. Jon Zanoff, the Founder of Empire Startups and head of the largest New York FinTech meetup, was met with resounding applause when he noted a benchmark -- 50% of panellists were women. Moreover the keynote speakers were 100% female: Sallie Krawcheck, Founder and CEO, Ellevest opened the conference with "How to Build Great Companies". Amy Nauiokas, Founder and President of Anthemis, a venture capital company focused on FinTech investments, led the afternoon keynote, "The Future of FinTech Time To Get Uncomfortable." Anthemis has invested in numerous well-known FinTech companies including Betterment, Artinvest and Stocktwits along with numerous others presenting at the conference. Nauiokas also took pride in the fact that more than half of her employees are women.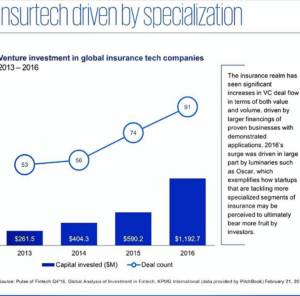 While Ms. Nauiokas noted that many deals have "cooled off in FinTech" there are areas that are emerging such as Insurance, or "InsurTech". Lemonade, a digital home insurance provider, demoed Maya its "charming artificial intelligence bot, " which was a crowd favorite during the "Hot Startups Demo" portion of the program. In the afternoon "The InsurTech Hibernation Is Over" speakers noted the 4x increase in InsurTech investment this year and the industry's momentum. The $400 million funding of Insurtech company Oscar Health, was the largest US Venture Capital deal of 2016. Findings from a KPMG industry report corroborate the boom in the industry which is illustrated in the graph below.

Miss the Empire Startups Conference? Don't worry, it is actually part of New York City's first FinTech Week. Check out the agenda for free and paid events happening until Friday, April 28.
Like what you read? Checkout Intro and Data Science Immersive courses offered by Byte Academy.