In early February, Finovate Europe, a sold-out, two-day conference in London brought together more than 1500 on a guest list composed of the "who's who in FinTech" – VC's, founders, press and more. The conference is perhaps only surpassed in size by its original, Finovate Fall in New York. Products were launched by 70 companies from around the world - both startups and larger veterans. However, no matter what the size or founder's native language, a few themes were common. These included personalization, big data, machine learning and white labeling. Some even indicated a shift from Finovate Fall a few months prior.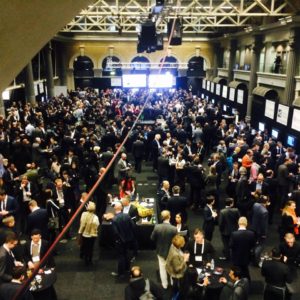 Ironically, numerous companies put a twist in the key FinTech idea of removing the middle man by making customer interaction more personal, often using big data and machine learning. As an example, Personetics, (est. 2011, 15 employees, Israel) demoed Personetics Engage, which reads previous customer data to provide financial management tips. Already the company claims a 30% customer engagement rate and a whopping 80% customer satisfaction rate. Meniga, based locally in the UK, debuted Dialog its "personalization platform" which uses big data and machine learning for "timely and targeted" communication between customers and banks. Its' strong point is segmenting customers based on spending and behavioral factors in order to send targeted and strategically timed messages. From the South in Spain, Innofis (est. 2012, 80+ employees) launched Omnichannel Predictive Banking which helps banks provide recommendations to customers. By analyzing customer behavioral data, the product can send targeted financial promotions.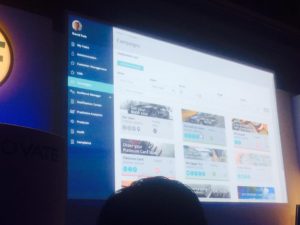 While 2015 Finovate Fall coverage discussed innovations for millennials, this buzzword seemed worn out by 2016. Companies, such as Infosys (India) targeted Generation Z with Finacle "youth banking solution" engaging these users with gaming and shopping. Rather than being specific to millennials or Gen Z, the Advisor Now platform by Envestnet ran "across generations."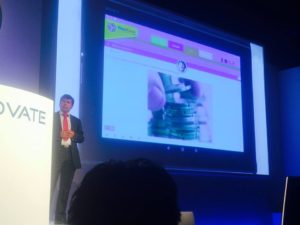 Advisor Now and many other financial advisory solutions were "white labeled" - a trend that was not as evident in the fall. In white labeling, these personal finance products were marketed to banks, rather than self-service clients. The white labeled products discussed above intended to let financial advisors compete with so called robo-advisers.
Other themes prevalent at Finovate Europe were mobile payments, customer onboarding, enhanced customer interface, biometric security and more. Surprisingly there was minimal emphasis on blockchain and bitcoin aside from hardware Ledger Blue, by Ledger (France, est. 2015).
For more coverage of Finovate please see the Finovate blog. And, if on you can't wait until next year for new technologies, join us for FinDevR in New York this March, Finovate Spring in May and Finovate Fall in September.
Interested in Data Science? Checkout Byte Academy's Data Science Immersive and Intro courses.